The Trust support the running of the community garden by providing governance, administration and accessing funding for its operation. The Trust was involved in the inaugural Community garden Christmas Dinner in 2016.
Community Pantry
A community pantry operates from the Garden three days a week: Tuesday, Thursday and Saturday, 11.00am-1.00pm. Food is supplied by Food Bank Aotearoa NZ. A koha is required.
Community Garden Report May 2017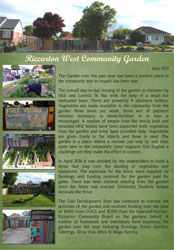 Download Report [979KB PDF] ...